Digital Photography Review group test photograph.
Back in February I posted an announcement on the new Pentax Optio WG-1 and Optio WG-1 GPS. Mainly I love my Pentax W90 for the auto macro setting. This feature turns on the LED lights and engages the macro - no fumbling with settings. The down side, as with most compact digital cameras, is the noise at a high ISO and in low light. Let's face it. These cameras can't replace a DSLR. Regardless, it's the camera I keep with my fishing gear. I can do things to it that I can't do with a DSLR.
Digital Photography Review
posted it's new "
Waterproof compact camera group test
" and the new Pentax Optio WG-1 didn't fare well. For daylight conditions it's a middle of the road choice, and in low light it's in the bottom of the class. The camera which took best of the bunch in every category is the Panasonic DMC-TS3. Sony TX10 came in a close second. Missing from the test group was a Canon and Nikon camera.
Canon has not updated its Powershot D10. Nikon's Coolpix AW100 just entered the market. The new Nikon has my eye, mainly for brand reasons. I've shot with a Nikon SLR and now a DSLR for the last 30 years. I did the math and could not believe it has been that long since my first Nikon. (These product reviews make to feel old.)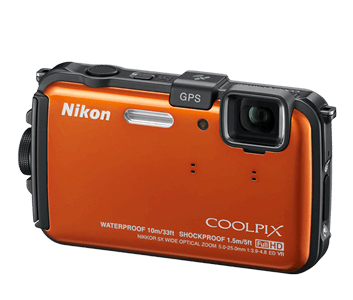 The Nikon looks good on paper and is similar to the Panasonic. Both cameras offer GPS tagging with a compass, shooting full 1080i HD video and image stabilization. The Nikon edges out the Panasonic in the mega pixel area and optics, 16M vs. 12M / 28-140mm vs. 28-128mm equivalent.
While the Nikon edges out the Panasonic on paper, the true test comes in the field. Which one to buy...? To add to the dilemma, both cameras cost less than $400.
The right answer for me is to wait for a full review with sample images. By that time, I'm sure a new camera (maybe from Canon) will enter the mix.
If any of you have either camera please comment and give me your recommendation.
Thanks,
Fly and Fin